Think talk is cheap? Try telling that to the 25 Superstars on this list. From an arrogant former reality TV star with an attitude problem to a wildly charismatic plumber's son, these men have packed arenas and glued millions of fans to their television screens with their unique ability to inspire passion, fear, anger and laughter through their captivating interviews. Nearly every Superstar who has ever set foot in a WWE ring has spoken on the microphone, but these 25 men were the best at it.
# 25: SHEAMUS
The first-ever Irish-born WWE Champion impressed many when he won that coveted title in his rookie year, but what's even more remarkable about Sheamus is the confidence he has displayed behind the microphone so early in his career. Where many Superstars have spent years stuttering on the stick in hopes of finding their voice, The Celtic Warrior immediately grabbed the mic with confidence and ran down opponents in his unmistakable Dublin brogue. And while fans may jeer at the pointed threats Sheamus has directed at rivals like John Cena and Randy Orton, they can't help but smile when he addresses them as "fella."
# 24: "RAVISHING" RICK RUDE
The chiseled "Ravishing" Rick Rude wasn't the first abdominally inclined Superstar to insult the physiques of everyone in his presence, but he may have been the best at it. With his lips curled under his impeccable mustache, the self-proclaimed "sexiest man alive" took slow pleasure in running down the inferior upper body development of the "sweathogs" in the arena before showing their wives what "a real man looks like." When the former Intercontinental Champion was satisfied with offending the WWE Universe, he would finally drop his robe and flex for the cameras - because sometimes a picture is worth a thousand words.
# 23: SANTINO MARELLA
Not since George W. Bush was in office has a man made such a mockery of the English language to such hilarious results. The master of the malapropism, Santino Marella's losing battle with basic vocabulary has inspired such classic Santino-isms as "Cold Stone Steve Austin" and "Knobberslockers." But the braggadocios Superstar is at his best when his Italian ire is up. Displaying the same red-faced frustration as a third grader in timeout, Marella kicks, pouts and complains until he gets his way - or gets a beating. No wonder he's considered one of the funniest guys in WWE history.
# 22: THE MILLION DOLLAR MAN
A cruel, calculating villain, The Million Dollar Man verbally destroyed men, women and children in his twisted quest to put a price tag on everything he saw. In the great tradition of evil millionaires like Ebenezer Scrooge and C. Montgomery Burns, the wealthy Superstar actually took pleasure in humiliating the less fortunate, dangling dollars in front of their faces just to jerk them away at the last second. For The Million Dollar Man, paying someone to kiss his feet wasn't enough - he had to browbeat the poor saps while they did it. How's that for "filthy" rich?
# 21: THE MIZ
The Miz has come a long way since his nervous, sweaty days as host of the 2006 Diva Search in his first year with WWE. Always arrogant, the Money in the Bank winner didn't truly figure out how to express his attitude on the microphone until he stepped in front of the camera with former tag team partner John Morrison to create the WWE.com original series, "The Dirt Sheet." Here, the former United States Champion relished the opportunity to run down every Superstar on the WWE roster. Soon, The Miz was delivering these insults directly to the WWE Universe and hasn't shut up since.
# 20: JESSE VENTURA
He was internationally known as "The Body," but Jesse Ventura's greatest asset may have been his loud mouth. A former Navy SEAL with more raw power than a defensive line, the WWE Hall of Famer could have let his actions in the ring do the talking, but the flamboyant big man savored the opportunity to verbally embarrass opponents. The humor and wit Ventura displayed on the microphone helped him transition naturally to the announce booth after his in-ring career came to an end and would serve him well in his future pursuits as a Hollwood actor, talk show host and Governor of Minnesota.
# 19: TRIPLE H
When The King of Kings is focused on an opponent, few Superstars can match the grizzled, snarling intensity of his tirades, a harsh reality legends like The Rock and "Stone Cold" Steve Austin can attest to. But as a member of DX, Triple H was the world's toughest class clown. Using pranks and name-calling to humiliate rivals like The Nation of Domination and The Legacy, The Game's games could be almost as painful as the beatings he dished out in the ring. This ability to unnerve an opponent with intimidation and degradation led to Triple H being christened The Cerebral Assassin.
# 18: PAUL HEYMAN
When the controversial Paul Heyman was around, the recipe for disaster was simple - hand him a mic and wait for the explosion. As the demented mastermind behind Extreme Championship Wrestling, the man once known as Paul E. Dangerously was one of the first people to reveal the backstage dealings of sports-entertainment in his interviews. Attacking everyone from the audience to network executives in his profanity-laced tirades, Heyman's big mouth would get him into trouble more often than not, but there was no denying his ability to divide and conquer behind the microphone.
# 17: EDGE
When Edge first arrived in WWE in 1998, he was a mysterious, stoic character who never spoke a word. How times have changed. First finding his voice as a sarcastic, kazoo-tooting slacker alongside his longtime tag team partner, Christian, the former WWE Champion truly captured his persona when he became The Rated-R Superstar. Toeing the line of sanity, Edge has never had a problem being completely honest on the mic, calling out rivals and turning on allies in his never-ending pursuit to reign atop WWE. The Ultimate Opportunist's madness often gets the better of him, but Edge is always worth listening to.
# 16: MR. MCMAHON
It's been said that actions speak louder than words. Try telling that to someone who's been on the receiving end of a verbal beat down from Mr. McMahon. Brash, confident and commanding, The Chairman would rather embarrass a rival than make another million bucks. And no one - not even Donald Trump - has gotten more of a thrill out of shouting the words "You're fired" than Mr. McMahon. From his rivalry with "Stone Cold" Steve Austin to his memorable war of words with Bret Hart, The Chairman has gotten himself into physical battles he can't win, but few can best Mr. McMahon when it comes to verbal slams.
# 15: "SUPERSTAR" BILLY GRAHAM
"The man of the hour, the man with the power, the man that's too sweet to be sour," "Superstar" Billy Graham turned arrogant boasting into an art form with a series of classic interviews in the late 1970s. The antithesis of straight-laced competitors like Bruno Sammartino and Bob Backlund, the former WWE Champion took inspiration from ring legends like Gorgeous George and rock 'n' roll stars like Elton John to create a persona that was "the reflection of perfection." Influential himself, Graham's braggadocios rapping would help shape future standouts like Hulk Hogan, Jesse Ventura and countless others.
# 14: MICK FOLEY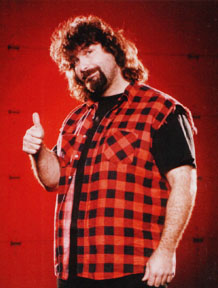 Mick Foley may have suffered from a serious multiple personality disorder, but every one of the former WWE Champion's personas had something to say. As the wild-eyed Cactus Jack, Foley was a volatile presence whose every word sounded like the life-or-death promise of a man with nothing left to lose. As Mankind, he embodied a dangerous, but lovable lunatic - a man who had seen the edge and then jumped right off it. But as Mick Foley, The Hardcore Legend was at his most sincere - a sweet, fun loving lug who liked nothing more than entertaining the fans and getting a big, cheap pop.
# 13: HULK HOGAN
Few performers in sports-entertainment history have been able to match the electric charisma of Hulk Hogan. With his 24-inch pythons flexed, the former WWE Champion implored his legions of Hulkamaniacs to "train, say your prayers and eat your vitamins" and intimidated his rivals with the classic line, "Whatcha gonna do when Hulkamania runs wild on you?" In later years, Hogan's impassioned words became trite, so he swapped his trademark red and yellow for the black and white of the nWo and incited audiences by simply saying the opposite of everything he'd said years before.
# 12: CM PUNK
Possessing the same powers of influence as some of history's most vile figures, CM Punk has the dangerous ability to manipulate with little more than a few words. These Svengali-like charms have allowed the sermonizing Superstar to brainwash young competitors into joining his woefully misguided Straight Edge Society. But those who have refused to follow the misanthrope have become the target of his endless insults, including Jeff Hardy ("Charismatic enabler" ), Big Show ("Criminally obese") and Triple H ("Two words: Katie Vick"). Punk's claims of being "better than you" may be erroneous, but few are superior on the microphone.
# 11: RANDY SAVAGE
Intensity was the key behind Randy Savage's best promos. With his muscles tensed and his veins ready to pop, The "Macho Man" always seemed to be right on the verge of snapping during his powerful interviews. This unflinching delivery gave Savage's every word a unique gravitas and made all of his matches seem like they may be his last - the former WWE Champion wasn't just going into a one-on-one contest, he was going to war. Macho Man's electricity would later be harnessed by Slim Jim and major motion pictures like "Spider-Man." Dig it?
# 10: JBL
The phrase "You can take the Texan out of Texas, but you can't take Texas out of the Texan" comes to mind when considering JBL. Although the big man embraced the expensive suits and luxury cars of the Wall Street elite in his later years, the former WWE Champion never lost the trash talking attitude he'd cultivated in the roughest honky tonks of his native Sweetwater, Texas. This mix of big city savvy and southern fried toughness made for a dangerous combination that JBL was all too willing to unleash on the WWE Universe in his bitingly hilarious and wildly controversial interviews.
# 09: BOBBY HEENAN
As the mouthpiece behind intimidating villains like Andre the Giant and Big John Studd, Bobby "The Brain" Heenan talked the talk and relied on his fearsome faction of giants to walk the walk. This ability to run his mouth and rarely suffer the consequences allowed the Beverly Hills native to direct endless streams of vitriol at despised rivals like Hulk Hogan and the members of the WWE Universe he rudely referred to as "humanoids." Ironically, these same masterful insults that once earned scorn would eventually endear the WWE Hall of Famer to the WWE fans, making him one of sports-entertainment's best loved legends.
# 08: DUSTY RHODES
Dusty Rhodes never had the look of a typical Superstar, but "The American Dream" was so wildly charismatic and engaging behind a microphone that WWE fans were passionately drawn to this working class hero. A plumber's son who spoke with a unique southern cadence and rhythm, the former United States Champion possessed the perfect balance of small-town folksiness and big city success which he famously described when he said, "I have wined and dined with kings and queens, and I have slept in alleys and dined on pork and beans." It was this dichotomy that made Rhodes one of the most inspiring talkers in sports-entertainment.
# 07: JOHN CENA
In his earliest interviews, John Cena was all swagger. A young hip-hop head with the uncanny ability to sling a rhyme, the former WWE Champion became wildly popular due to his hilarious freestyles. But as the "Legendary" star matured, so did his confidence behind the microphone and his cocky wordplay soon gave way to intense, passionate speeches. Stern and direct, Cena has the ability to inspire an audience like a military general. But like any great talker, he can also crack a joke at the most unexpected moment. Effortlessly mixing style and substance, Cena has earned his spot amongst the greatest talkers of all time.
# 06: JAKE "THE SNAKE" ROBERTS
Like the serpents he carried to the ring, Jake "The Snake" Roberts possessed a cold demeanor that could unnerve the largest Superstar. In an environment where men rely on pointed, physical threats to intimidate, Roberts played mind games with his rivals, preying on their darkest phobias to shake them before they even stepped in the ring. More so than most grapplers, the python-carrying competitor understood the power of a scream, only raising his voice when the moment truly called for it. It was this unique brand of psychological warfare that gave Roberts an upperhand on the majority of his enemies.
# 05: CHRIS JERICHO
Early in his career, Chris Jericho garnered attention for his hilarious interviews that referenced everything from "Mad Max Beyond Thunderdome" to Cheap Trick. But the nefarious Superstar delivered his best promos when he traded his rock T-shirts and adolescent humor for expensive suits and a deadly serious delivery. Fine-tuning his vocabulary and addressing the "petulant tapeworms" in the WWE Universe in a calm, measured fashion, Jericho became obsessed with humiliating rivals and convincing everyone that he is "the best in the world at what he does." Delusions of grandeur? Perhaps, but there's no denying his abilities.
# 04: RIC FLAIR
Decked out in $5,000 dollar suits with a Rolex that "cost more than your house," Ric Flair was the kind of guy fans loved to hate before he even said a word. But it wasn't until the former WWE Champion opened his mouth that the real fireworks began. Shouting and strutting with his trademark flamboyance, Flair loved to flaunt his material possessions, but The "Nature Boy" ran on pure emotion. Screaming until he turned red, Flair expressed the importance of an upcoming match better than any Superstar - and he never failed to cap it all off with a "Whooo!"
# 03: RODDY PIPER
Just when the WWE Universe thought they had the answers, "Rowdy" Roddy Piper changed the questions. As the inflammatory host of his own talk show, "Piper's Pit," the WWE Hall of Famer embraced the role of controversial, in-your-face host long before daytime television was crammed with the likes of Jerry Springer and Judge Judy. Away from The Pit, Piper could be even more intense and once smashed a full beer bottle on his forehead during an interview just to prove a point. Erratic, confrontational and often just plain nuts, Piper could be more dangerous on the microphone than he was in the ring - and that's saying something.
# 02: "STONE COLD" STEVE AUSTIN
In the eyes of many, "Stone Cold" Steve Austin went from being a talented competitor who never quite hit it big to one of the most popular Superstar in WWE history in the course of a single interview. It was June 23, 1996 when the former WWE Champion grabbed the microphone after dispatching Jake Roberts to win the King of the Ring and uttered the term, "Austin 3:16." The speech helped kick off a whole new era in WWE and cemented the WWE Hall of Famer's reputation as a man worth listening to. No Superstar has ever been as captivating on a microphone - and that's the bottom line.
# 01: THE ROCK
No Superstar in WWE history was better at insulting their rivals than The Rock. Smart, engaging and funny, The People's Champ could take a Superstar as intimidating as Kane and cut him down to size in the course of a bitingly hilarious monologue that would have the WWE Universe folded over in laughter. The former WWE Champion was such a charismatic presence, he became one of Hollywood's leading actors, starring in major films like "The Scorpion King." And in 2007, "smackdown," one of The Rock's most-used words, was added to the Merriam-Webster's Collegiate Dictionary. How's that for cultural impact?

Honorable mentions: Booker T, Shawn Michaels, Road Dogg Jesse James, The Undertaker, Goldust and Kurt Angle.