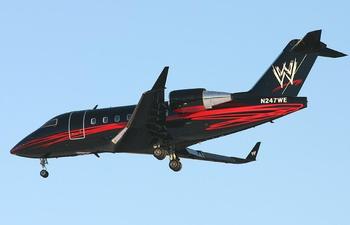 If backstage fights can be seen as "shoot wrestling matches", the infamous "Plane Ride from Hell" of 2002 can easily be considered the Royal Rumble of such events.
In an unnecessary real life example of why alcohol, planes, and jocks do not mix, the WWE RAW crew virtually imploded during a fateful plane ride back to the states after the WWE Insurrextion pay-per-view in London.
The events during the Plane Ride from Hell played out like a bad, overbooked episode of RAW.
Then road agent and WWE Hall of Famer "Freebird" Michael Hayes was one of the key figures during the chaos that ensued on that plane.
Hayes would enter into a war of words with, you guessed it, JBL. JBL promptly laid out Freebird, thus setting the tone for an ominous chain of events to warrant such a demonic nickname for a flight.
But it didn't end there. A couple of wrestlers decided to teach Hayes a lesson by cutting his hair whilst he slept. Not surprisingly Sean ''X-Pac'' Waltman did the honours. Hayes awoke to find his new shorter hair-do and went ballistic. With Kevin Nash not on tour due to injury, and Scott Hall semi-conscious after drinking, Waltman didn't have a lot of backup, but somehow managed to avoid a beating. Hayes' mullet was stapled to the wall backstage at the next RAW taping! and hayes blew another fuse.
The fun continued with an intoxicated Ric Flair parading around the plane wearing nothing but his trademark robe and exposed himself to a female flight attendant.
Providing the evening's entertainment, Dustin "Goldust" Rhodes used the flight's PA system to serenade his ex-wife Terri Runnels in an uncomfortable display. Oddly enough, Rhodes' serenade was one of the few occurrences that compelled then President of talent relations Jim Ross to enforce his authority by shutting down the impromptu Karaoke. Dustin Rhodes was in the doghouse for a long time and was publicly dropped by WWE in late 2003 with a WWE.com statement announcing his contract would not be renewed when it expired in January 2004, although he has returned to the WWE since.
Curt Henning and a soon-to-be comatose Scott Hall managed to get their hands on canisters of shaving cream. The contents inside the cream would wind up on multiple individuals. Scott Hall would passed out soon after.
But the fun didn't stop there for Henning. The man once known as Mr. Perfect had become liquored up enough to challenge NCAA World Class Wrestler and former WWE Champion Brock Lesnar to a fight, insisting he was a better amateur wrestler than Brock.
Did they check these guys for PCP?
In what would prove to be the climax of the Plane Ride from Hell, Lesnar shot in and drove Henning into the side of the plane, coming dangerously close to a plane door. Eventually, several others on the flight, including Dave Finley, Triple H, and Paul Heyman had to separate the pair. There was no
heat on Lesnar at the time as the blame was placed on Hennig's end.
The events were enough to warrant repercussions that were as newsworthy as the joyride itself.
Both Curt Henning and Scott Hall were released from their contracts as a result of their actions on this infamous plane ride. Scott Hall was so docile on the trip that people had to check his pulse to see if he was still alive!
In a flight where President of talent relations Jim Ross, road agents Michael Hayes, Gerry Briscoe, Dave Finley, and Arn Anderson, senior writers Stephanie McMahon (the boss' daughter), Paul Heyman, and WWE's conscious The Undertaker were all present, the summation of authoritative stroke on that plane did not stop some of the most outrageous personalities in wrestling from going buck wild.
Jim Ross, in his now-defunct Ross Report on WWE.com, stated the following about the flight in his first column after the tour: "The flight was about seven hours in
length and at times was low-lighted by a handful of
people who consumed too much alcohol and consequently acted like children whose parents were away and left the liquor cabinet unlocked. The conduct of this inebriated minority was unacceptable and will not be tolerated. Procedures have been put in place to ensure such conduct does not occur in the future."
The bottom line is this: yours truly is the person in charge of the talent roster and the buck stops with me. We will do all we humanly can to solve the problem.
In the same column, Ross noted that Scott Hall (who said to have been asleep during the flight) was not involved with any of the major incidents. Hall was soon be gone from WWE as his release was announced several days after the UK tour. There were reports that Hall wasn't in the best of condition during the tour, but he was signed shortly after his release to appear by the then-debuting NWA:TNA promotion.
This, along with the multiple isolated conflicts resulting from one plane ride, and the ensuing casualties, is what makes The Plane Ride from Hell the most infamous shoot brawl between wrestlers in WWE history.
At least the only person who maintained character was Scott Hall.